La Societe des Quarante Hommes et Huit Chaveu

Grand Chef de Gare John Aasen 2020- 2021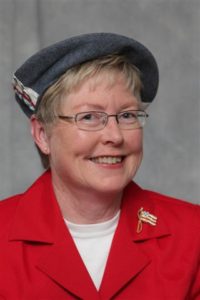 Beth Laatsch
GRAND PRESIDENTE 2019- 2020
INSTALLATION OF OFFICERS Aug. 2020
Voiture 804 Annual Wreck Invite Sept 26, 2020
Voyageurs
I am enclosing a picture of my Locale presenting the colors today at a funeral for a fallen WWII Voyageur. He was 16 days short of hitting 98. What was very impressive were the 40&8 masks that we wore due to the covid – 19 pandemic. One woman was so thankful that she bought 2 of them in memory of her father. $5.00 each, made of cloth and very stylish. The mask can be seen in the Correspondent Corner Menu.
Check Out News Letters and General Info. Box Car information
Don't forget to check out Corresponds Corner in Menus
Correspondants Corner July 26, 2020 Correspondants Corner July 4, 2020Correspondants Corner Mar 29 Correspondants Corner May 8, 2020
Camp American Legion Update
Voyageurs and Dames
Just found out that due to the Coronavirus and the age & risk factors of those who use the Camp; it will not be opened until July 1st of this year. (This is subject to change) Now that may or may not affect our Forty et Eight Days at Camp.
We should still be able to use a pontoon boat for the fishing tournament.

Might have to bring our own food for the Saturday afternoon picnic at the flowage. Not a problem there……

For now Camp Director Don Grundy will be the only employee throughout this period unless the open date is modified.
As with everything else going on and changing day to day; I will do my best to keep everyone notified on any updates or changes concerning 40 et Days at Camp. If all nonessential businesses are still closed June 25th – 28th; we'll have to make some rather harsh decisions but until then, I plan on being up there early Thursday afternoon and painting lines for the bean bag tournament.
Tom Orval
Grand Correspondant
Chairman Forty et Eight Days at Camp American Legion
Grande Voiture de Wisconsin
Check Out the Voiture Newsletters

Information on P.A.L'S this is the only Newsletter I have permission to load to the website
Don't forget to bring food pantry items for Grand and Midwinter
Tom Orval Grand Correspondant Grande Voiture de Wisconsin